Toledo, Spain
Getting to Toledo: Your Transportation Options
Toledo is the number one recommended day trip from Madrid
so we figured it would be easy to get to. We were right; there are frequent buses and trains to and from the city (even on holidays!).
Train Option:
The train leaves from Atoch every one or two hours starting around 7:00 am on weekdays and 9:00 on weekends and holidays. Its last trip back leaves Toledo between 7:00 pm and 9:30 pm (depending on the day).
The train costs 10,60€ for a one way ticket and 19,10€ for a roundtrip.
Bus Option: The bus schedule was difficult to find on Alsa's website, but we saw that there should be a bus every half an hour or so. The buses leave from the Plaza Eliptica Station which is easy reached by Madrid's Grey Line (Line 6). We got to Plaza Eliptica and waited in a long line for a ticket (there were, however, ticket machines and online purchase options too). The tickets we bought didn't have a certain time, but the bus was already there waiting and as soon as it was full we left for Toledo. It's important to try to take the direct bus, which only takes about 45 minutes. I've heard that the other makes many stops and can take double the time!
The bus costs 4,95€ for a one way ticket and 8,88€ for a roundtrip.
We decided on the bus because of our budget, but would probably try the train in the future to save some time. That being said, the bus was comfortable too!
Spent so far: 9,00€ per person (11,00 is you include metro to Plaza Eliptica)
What to eat:
Toledo is known for its hearty food. Venison, boar, game birds, stuffed peppers, sausage and eggs…it is the perfect cuisine for a cold winter day! We needed a place where we could try some of Toledo's typical cuisine but not spend a fortune. Luckily, we stumbled upon the perfect place.
Café Bar Toledo Cervecería C/Armas 15
Tostada con carne de cerdo, brie, y balsamico:
A toast with ground pork, melted brie, and balsamic reduction.
Huevos Rotos con Chistorra:
A fried egg on top of fried potatoes with some fried Spanish sausage (hearty indeed!)
Venado con Salsa de Champiñones:
Venison in a mushroom sauce.
Carcamusa:
A very typical dish in Toledo! Stewed pork with tomato, peas, and a slightly spicy sauce (Spanish "spicy")
Sights to see:
La Puerta del Sol
La Catedral Primada
El Río Tajo
What to Buy
Swords and sweets!
Most people know that Toledo is a famous producer of swords. There are many shops where you can buy your own. They were actually a lot less expensive than I thought (around 150€ for what seemed like a really nice one!) but to Ale's disappointment they didn't fit the budget…
Marzipan:
Toledo is also famous for its homemade marzipan. Pastry shops and gourmet food stores all over town sell the sweet almond paste. I've never been a marzipan person, but I had to try it. It was actually delicious. I tried one with almonds and another with sweetened egg yolk. Both were excellent. We bought a small box for my mother. Although I don't know if they'll last until Christmas!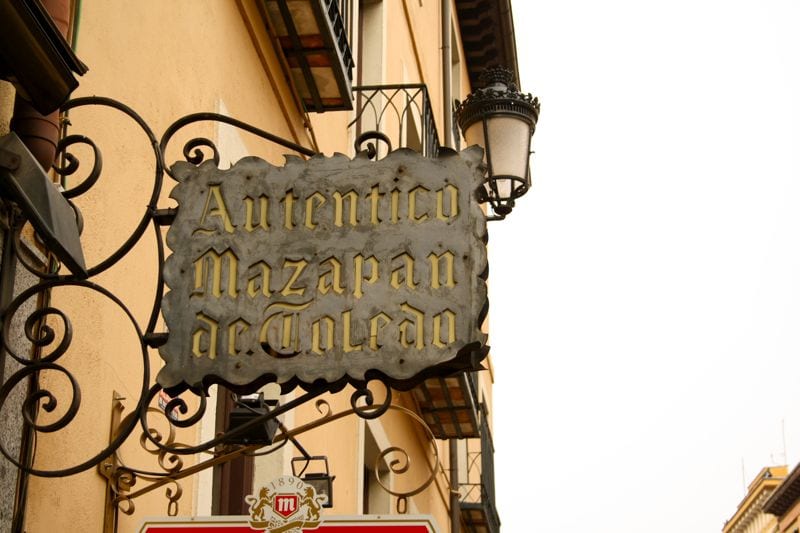 Spent so far: 22,50€ per person
(A small box of marzipan costs around 5,00€)
Credit to: http://spanishsabores.com/2011/12/09/budget-day-trip-to-toledo/