Located in the south central part of the Chinese mainland, Hunan has long been known for its natural beauty. It is surrounded by mountains on the east, west, and south, and by the Yangtze River on the north. Its mixture of mountains and water makes it among the most beautiful provinces in China. For thousands of years, the region has been a major center of agriculture, growing rice, tea, and oranges.

When to Go
Hunan has a humid, subtropical climate. The monsoon rain falls mostly in April, May, and June. July and August are uncomfortably hot and humid.
The best time to visit is in the fall, when temperatures are cooler and the rainfall lighter. For persons who live in cold northern climate, visiting it in the winter can be pleasant. After all, any place that grows oranges can't be all that cold. Low temperatures in winter are usually above freezing, with daily highs around 10

C. Annual rainfall is around 1,250 - 1,750 millimeters (49.2 to 68.9 inches). Northern Hunan has more climate extremes than its southern part. It can get colder in the winter and hotter in the summer.

What to See
The headspring of life,
Dongting Lake
, is frequently mist-covered in the early morning. It is the second largest lake in China. Yueyang City, located on the shore of Dongting Lake, is home to one of the country's three famous towers.
Yueyang Pavilion
was originally built during the Tang Dynasty (618-907). The present pavilion is of recent reconstruction, built in the style of the Song Dynasty (960-1279).
| | |
| --- | --- |
| Zhangjiajie National Forest Park | Zhangjiajie National Forest Park |
In 1982, China established its first national forest park.
Zhangjaijie National Forest Park
was established in a particular scenic area in northwest Hunan. The park is especially known for its quartz-sandstone rock formations, bare stone sculpted by nature and set among green trees and frequent clouds.
The high and steep
Mt. Hengshan
is frequently snow-capped in the winter, contrasting with the subtropical fields that one sees below it. It is one of the five most famous mountains in the country. Known for its precarious cliffs, it is a holy mountain for both Taoists and Buddhists.
The region along the Yuanjiang River is especially well known for its serene beauty. It takes its name, the Peach Blossom Fountainhead, from a work of Chinese literature from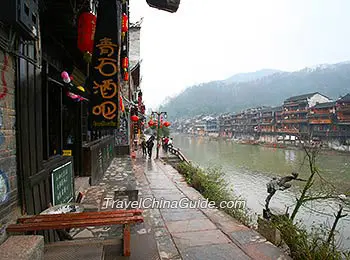 Phoenix Town
the Jin Dynasty (265-420). Tao Yuanming wrote about an isolated Utopia-like paradise where generations of people had escaped from the difficulties that others had experienced. The Yuanjiang River region has been a travel destination since ancient times.
Historic Changsha, one of China's famous cultural centers, is the capital of Hunan Province. It is also a tourism center, offering its visitors many historical sites and other places of interest.

Highlights
Hunan's cuisine has its unique flavor. Here, nearly every dish tastes hot, and delicious. The local people of like eating peppery foods.
The products here include Xiang embroidery, one of China's four famous embroideries. It has high artistic value. With 200 years of history behind them, the chrysanthemum stone carvings of Liuyang are vivid and exquisite. Liuyang City is known for its firecrackers, which are popular all over the country.
Many great people have come from Hunan Province. In ancient times, Quyuan, a patriotic poet, committed suicide by throwing himself into the Miluo River. The story of his death
and the search for his body started the tradition of Dragon Boat Festival. Chairman Mao,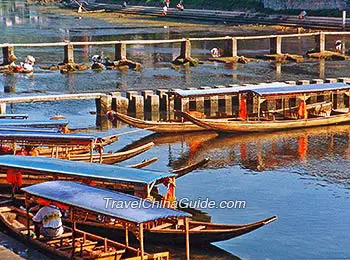 Tuojiang River flows through Phoenix Town
idol of the Chinese people, was born in Shaoshan. Zhu Rongji, one of the important leaders in the country, also comes from this province. Such famous people show that Hunan is a place that has cultivated talent as well as being a destination for visitors.
With abundant natural resources, the province covers 210,000 square kilometers (81,000 square miles). It is adjacent to Jiangxi Province in the east, Chongqing Municipality and Guizhou Province in the west, Guangdong Province and Guangxi Autonomous Region in the south, and Hubei Province in the north. The province has a total population of 64,400,700. It is multiethnic, with Miao, Dong, and Yao being the most numerous minorities. Their unique cultures and ethnic customs attract numerous visitors.
Credit by : http://www.travelchinaguide.com/cityguides/hunan/